Wushu Sanda, a Noble Sentiment of the Nation
Source:
2017年03月27日
Views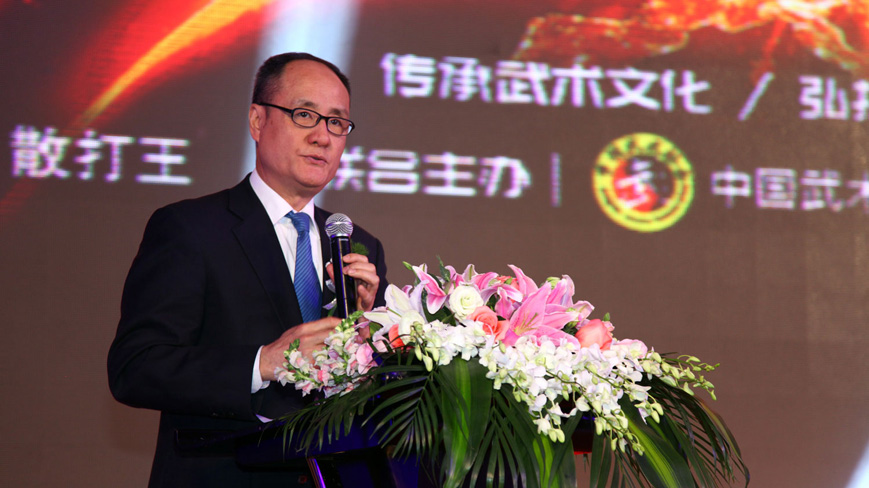 On the occasion of the launch of the 2017 WKA Kungfu King of the World, on behalf of the Chinese Wushu Association, I would like to extend a warm welcome to all our distinguished guests. Meanwhile, I would like to express my heartfelt gratitude to the people from all walks of life and friends from the media outlets who have provided long term support for Chinese Wushu.
Today, the Chinese Wushu Association will enter into the 2017 WKA Kungfu King of the World Cooperation Agreement with Guowu Times International Culture Media (Beijing) Co., Ltd. The competition will be held in Beijing on the 28th of October.
Wushu is a highlight of the age-old traditional culture of the Chinese nation, and a noble sentiment of the Chinese nation. As a main part of Wushu, Sanda is a unique unarmed combat sport from the Chinese nation. Since it was launched initially as a pilot project in 1979, Sanda has been developing for 37 years. Its unique technical system and training system have become mature. Some major international individual championships such as the World Wushu Championships and Wushu Sanda World Cup have been held. Sanda has become a formal competition in Universiade, Asian Games, East Asian Games, and other international and intercontinental multi-sports games.
In 2000, the WKA Kungfu King held by the Chinese Wushu Association caused a sensation. In a sense, "Kungfu King" has become a symbol of Chinese Wushu and a brand of national competition. We will invite the best domestic and overseas Sanda contestants to attend the upcoming 2017 WKA Kungfu King of the World. Through this event, we wish to improve athletes' skill level, facilitate the professional development of Sanda as a sport, and carry forward the national spirit centered on patriotism and the spirit of time centered on reform and innovation.
At last, I wish the 2017 WKA Kungfu King of the World a great success!